still life

| 1988

Santa Barbara Contemporary Arts Forum
Santa Barbara, California
The Carol and Arthur Goldberg Collection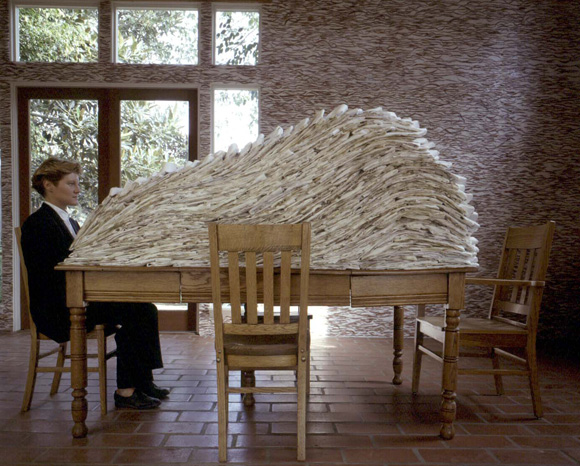 Materials: eucalyptus leaves, parrafin wax, a table, white shirts, singed and gilded, the sound of opera, a vaporizor, a tree branch, ashes

"Tables are my blank paper, my landscape, my figure, a plane that implies the solitary figure and all that is social . . . two people sitting face-to-face, working together, eating or speaking. . . . All tables inherit a history of their use as a site of communion and sacrifice."
— Ann Hamilton
This work was conceived specifically for the home of a landscape designer, volunteered for use for the exhibition. still life was situated in the living room, the space that occupies a central physical and social position within the house. Eucalyptus leaves sourced from the outside the house were encrusted in paraffin and covered the room's walls. An attendant sat in front of a dining table which was engulfed by a stack of 800 men's white shirts that were each laundered and folded, then singed and gilded on the edges. A smaller table, placed against the wall, displayed empty velvet jewelry forms. The metal fireplace which occupied the opposite end of the room was removed; its bed of ashes remained as it was replaced by a 20' live eucalyptus tree. Placed in and near the windowsill, two vaporizers scented with eucalyptus oil filled the environment with moisture and a medicinal scent, creating within the living room the feeling of something or someone askew. From an unseen source, recorded excerpts from Carmen and The Magic Flute played in the background.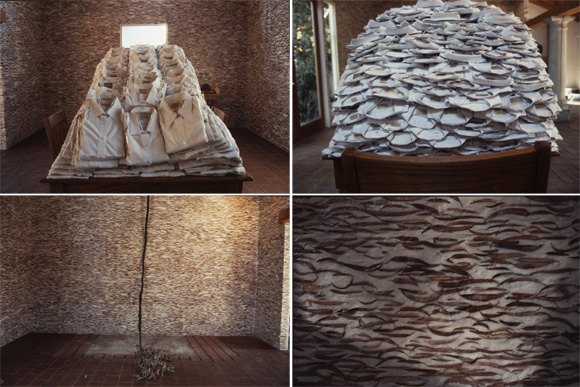 Photo credit: Wayne McCall / Ann Hamilton

Related Readings:
· Baker, Kenneth. "Art Comes to Dinner in Santa Barbara." San Francisco Chronicle (September 21, 1988.
· "Still Life: The Tableaux of Ann Hamilton." Arts Magazine vol. 64, no. 9 (May 1990): 56-61.