myein | 1999

The United States Pavilion
48th Venice Biennale 1999
Venice, Italy
June 13, 1999-November 7, 1999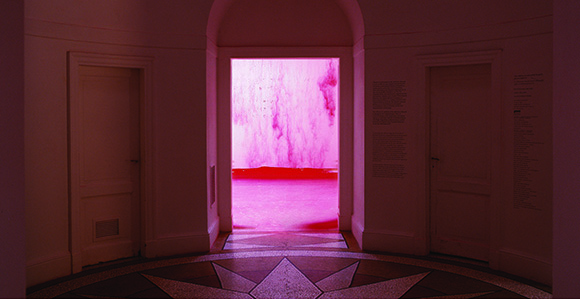 Materials: four skylights, glass and gridded steel wall (18' x 90'), wood table, white cloths, mirrored glass, vinyl powder, auger system, electronic controllers, plaster, recorded voice, digital audio, computer, sixteen speakers
The word myein is an ancient Greek verb meaning "to close the eyes or mouth." Linked to the initiation rites enacted in medieval cults, the closing of the eyes or mouth refers to the secret status surrounding their rites. Across time, myein has come to stand for that thing which has not been, or cannot be, explained.
Hamilton's interest in the temple form as an idealized image projected onto civic space led her to engage the neo- classical building of the United States pavilion as both subject and object of the project. It was a meditation on aspects of American social history that, like weather, are present and pervasive in effect but which remain invisible or unspoken. Her self-given task was to make a place in which this absence could be palpably felt and to create a space simultaneously empty and full.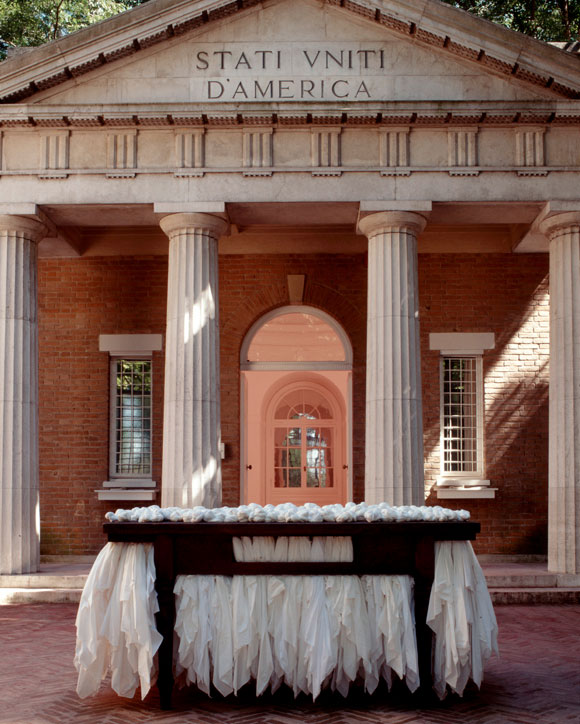 The dominant movements of the project were the downward pull of time and gravity and the incessant horizontality of landscape and writing. Outside the pavilion, a steel grid of rippled glass panes was built 8 feet from the building's front, stretching 90 feet across its width, and reaching 16 feet up to its entablature. Like the horizon of Venice shifting constantly from solid to liquid, from land to water, so too the optical distortions of the glass wall blurred the solidity of the building and the edges of the surrounding garden. In liquefying the view, the glass screen also created a sense of movement, slowed and slightly suspended, in time.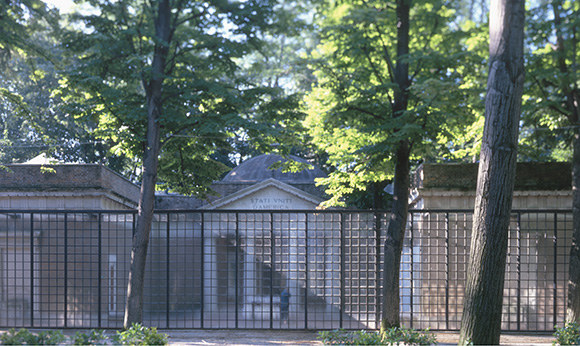 As enclosed by the glass wall, the pavilion courtyard became an open fifth room or commons for the building. There, centered within the brick faced patio was the only singular object in the installation: a wood table with a dense surface of knotted cloth. Fist-sized knots (one of the earliest forms of record keeping) were pulled tightly against the table's surface with their tails pulled through to fill the space between the four legs and slightly brush the ground beneath.
Around the perimeter of the four interior rooms of the pavilion, a chaos of smokefine fuscia powder fell and accumulated over material and aural texts: Selections from Charles Reznikoff's project: Testimony: The United States, affixed in Braille to the walls, and from the corners, recordings of Abraham Lincoln's second Inaugural Address spoken in phonetic code. By insinuating inclusion or exclusion the whispering voice of the recordings subverted the public character of the space, and like the powder, was both pervasively present yet out of reach. Spoken in phonetic code wherein each letter is spelled out as name or thing: Alpha for A, Indigo for I , Bravo for B and so on, the text could be deciphered only by notating in writing each coded letter. Originally delivered near the close of the American Civil War, Lincoln's address extended a healing hand toward that primary schism in American democracy - the institution of slavery.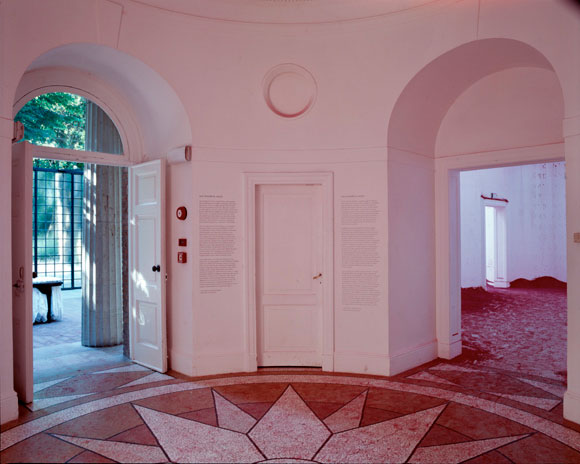 In Venice, this coded speech became as opaque and difficult to know as a reading of the white on white plaster dots, which lined the interior walls with the replication of an enlarged Braille text. The Braille rendition of Reznikoff's Testimony: The United States 1885-1915 transferred to the walls of the pavilion the testimony of witnesses in court cases involving property disputes, accidents and acts of violence. These acts of description bear witness to things not easily seen or held within an idealized projection of democratic space. Although impossible to read as text, the constellations of plaster dots were marked over the 6 month exhibition by the descending fuschia powder collecting to stain, ring and make it more visible. Normally the act of writing replaces speech, but here speech and text are concealed by codes of sound and touch, and rendered opaque to evoke the unnamable legacy of grief in this accounting of the short history of The United States.

Photo credit: Thibault Jeanson, M. Gregolio/F. Beranez
ACKNOWLEDGEMENTS
Co-commissioners: Katy Kline, Helaine Posner
Principle Sponsor: The Fund for U.S. Artists at International Festivals and Exhibitions
Project Management: Zach Hadlock
Engineering: Marty Chafkin, Perfection Electricks
Sound: Ben Rubin
Photography: Thibault Jeansen
Architect: Clemente Di Thiene
Construction: Michele Marconati, Giammario Napolitano
For a complete list of all those who made this project possible, please click here.

Related Readings:
· Vogel, Carol. "The U.S. Choice for Venice." The New York Times (May 29, 1998): E2: 36.
· Temin, Christine. "Two from List to Organize Pavilion for Venice Biennale." The Boston Globe (May 29, 1998): C13.
· "Next Biennale Confirmed for 1999." The Art Newspaper vol. 10, no. 87 (December 1998): 9.
· Gilson, Nancy. "Hamilton Chosen to Create Installation for Venice Exhibition." The Columbus Dispatch (May 29, 1998).
· "Ann Hamilton at Next Venice Biennale." Flash Art vol. 31, no. 202 (October 1998): 64.
· Zevi, Adachiara. "The Biennial of Globalization." L'Architettura v. 45, nos. 525/526 (July/August 1999): 468-470.
· "At the Venice Biennale, Art Is Turning into an Interactive Sport." The New York Times (June 14, 1999): E2, E6.
· Verzotti, Giorgio. "La Biennale delle culture emergenti." Tema Celeste vol. 16, no. 75 (July/September 1999): 46-53.
· Vetrocq, Marcia E. "The Venice Biennale: Reformed, Renewed, Redeemed." Art in America vol. 87, no. 9 (September 1999): 82-93.
· Verzotti, Giorgio. "La Biennale delle culture emergenti." Tema Celeste vol. 16, no. 75 (July/September 1999): 46-53.
· Thea, Carolee. "Venice Biennale 1999." Sculpture vol. 18, no. 8 (October 1999): 85-87.
· Schwabsky, Barry. "Report: 48th Venice Biennale." art/text, number 67 (November 1999-January 2000): 40-41.
· Schmerler, Sarah. "Ann Hamilton: Biennale Fever." ARTnewsletter, vol. 24, no. 19 (May 18, 1999): 5-6.
· Schjeldahl, Peter. "Festivalism: Oceans of Fun at the Venice Biennale." The New Yorker (July 5, 1999): 85-86.
· Restany, Pierre. "The Biennale of Global Culture." Domus no. 819 (October 1999): 99-110.
· Politi, Giancarlo. "The Venice Biennale." Flash Art vol. 32, no. 208 (October 1999): 76-80.
· Muchnic, Suzanne. "Venetian Finds." Los Angeles Times (July 18, 1999): 6, 62.
· Millet, Catherine. "La Biennale-48e exposition internationale d'art: Venice." Art Press no. 249 (September 1999): 65-69.
· Mitchell, Julian. "All Myein and Betty Martin." Modern Painters vol. 12, no. 3 (Autumn 1999): 56-59.
· Martin, Pierre. "La 48e Edition de la Biennale de Venise: Sous le signe de la liberte et de la jeunesse." Vie des Arts v. 44, no. 176 (Autumn 1999): 70
· Martinez, Rosa. "Venetian Views: 2." C Magazine no. 68 (September-November 1999): 26-27.
· Maxwell, Douglas F. "The 48th Biennale di Venezia." Review (September 1999): 44, 45.
· "Codes and Whispers: Ann Hamilton's Severe Meditation on Violence in America Creates a Buzz at the Venice Biennale." Time vol. 154, no. 2 (July 12, 1999): 75.
· Lyttleton, Celia. "Biennale Fever." Telegraph Magazine (1999): 19-11.
· Lista, Marcella. "48e Biennale de Venise." Parachute no. 96 (October/December 1999): 68-70.
· Lister, David. "Venetians Turn Blind Eye as Brit Art Chums Invade for Biennale Bash." The Independent (June 1999)
· Hutera, Donald. "Dance: Damaged Goods." The Times (August 23, 1999).
· Iken, Fatima Dias. "Corpos com 'appetite' devorador." O Comercio do Porto (April 9, 1999): 21.
· Ivry, Benjamin. "La Serenissima's 48th Biennale." Art and Auction vol. 21, no. 18 (June 1999): 83.
· Jodidio, Philip. "Vivant a Venise." Connaissance des Arts no. 563 (July/August 1999): 44-47.
· Hoorn, Jeanette. "48th Venice Biennale 1999." Art & Australia vol. 37, no. 2 (1999): 204-205.
· Hixson, Kathryn. "The 48th Venice Biennale." New Art Examiner vol. 27, no. 1 (September 1999): 22-23.
· "Gli Artisti della Biennale di Venezia." Tema Celeste supplement, vol. 16, no. 74 (May/June 1999): 74.
· Grant, S. "Mega Death in Venice." Blueprint no. 163 (July/August 1999): 72.
· Greenberg, Sarah. "The Marco Polo Biennale." The Art Newspaper vol. 10, no. 94 (July/August 1999): 30- 33.
· Francblin, Catherine. "Biennale de Venise 99: Les Temps Forts. Pavillon des Etats-Unis: Ann Hamilton." Beaux Arts Magazine no. 181 (June 1999): cover, 91.
· Feaver, William. "48th Venice Biennale." ARTnews vol. 98, no. 7 (Summer 1999): 151.
· "Visionary Installation at Venice Biennale." International Herald Tribune (May 29-30, 1999). Art Section: 6.
· Cotter, Holland. "Two Big Milestones and a Biennale." The New York Times (March 14, 1999): Section 5: 12, 39.
· Dobrzynski, Judith H. "Representing America in a Language of Her Own." The New York Times (May 30, 1999): Section 2: 1, 30.
· Camnitzer, Luis. "Venice Biennial." Art Nexus (No. 34, November 1999-January 2000): 56-61.
· "Ann Hamilton to Represent United States at 1999 Venice Biennale." Arts Ohio (June 1999): 1, 3.
· "1999 Venice Biennale on Track." Art in America vol. 87 , no. 2 (February 1999): 128.