mattering

| 1997-1998

Part of the exhibition "Ann Hamilton: Present-Past, 1984-1997"
Musée d'art contemporain de Lyon
Lyon, France
November 16,1997-February 6, 1998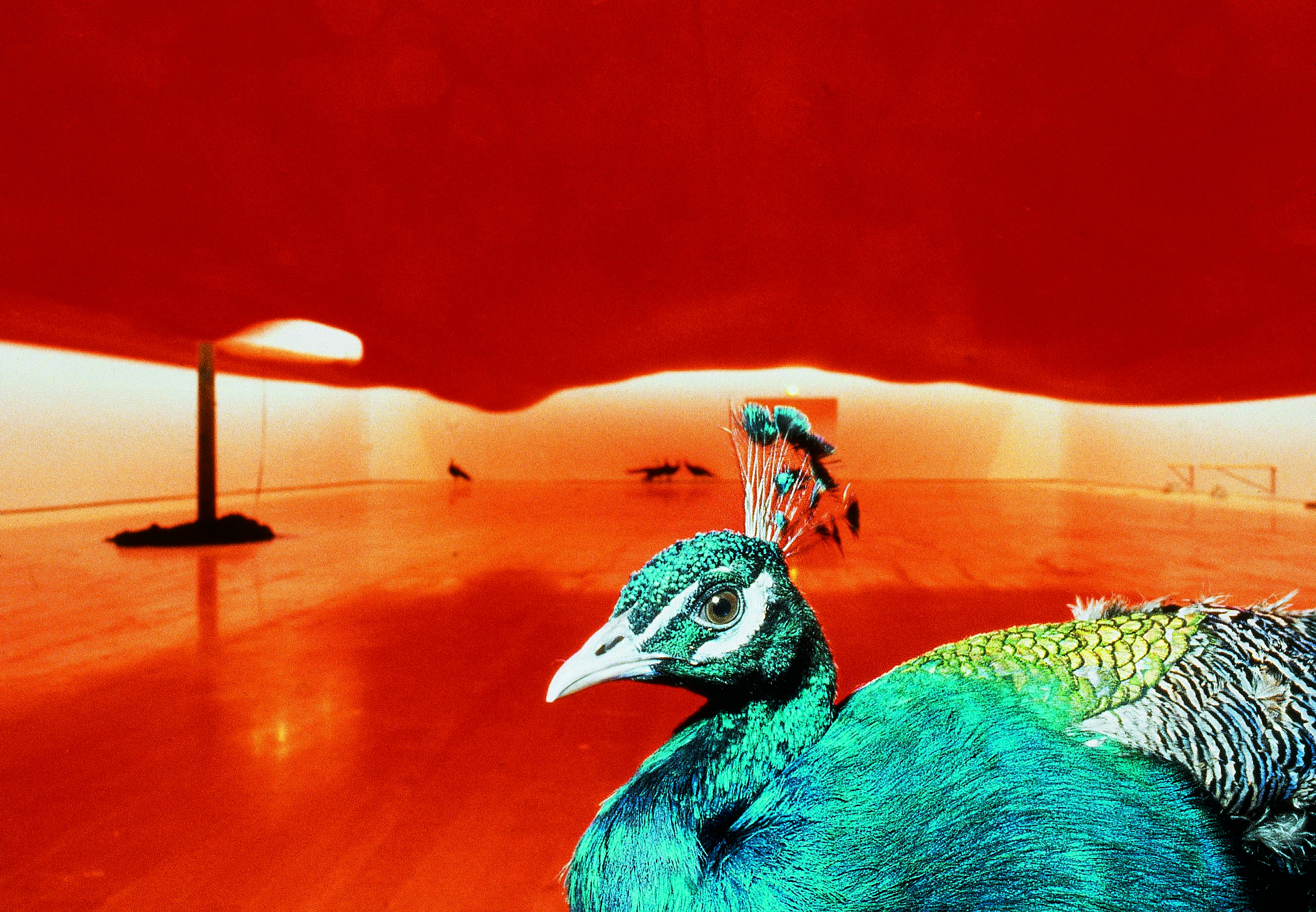 Materials: orange silk, live peacocks, utility pole, six wall-mounted perches, attendant, porcelain inkpot, inked typewriter ribbon, sound
Hamilton created this project in response to the specific architectural character of the top floor gallery of Musée d'art contemporain de Lyon; to the history of Lyon as an international center for the production and consumption of luxury goods; and to the relationship between word-centered and haptically experienced perception.
As designed by architect Renzo Piano, the museum's third floor gallery contains an unusually expansive quantity of edge-to-edge natural light. Hamilton began her project by removing all the interior walls of the gallery and thereby returning the space to its original luminous volume (105' x 58 ' x 16' ). Then she divided the space horizontally by suspending an enormous (90' x 54') sheet of orange silk five feet below the ceiling at the narrower end walls. The silk was attached at one end to a mechanical drive that slowly raised and lowered the billowing orange membrane to fill the space with undulating wave-like movement.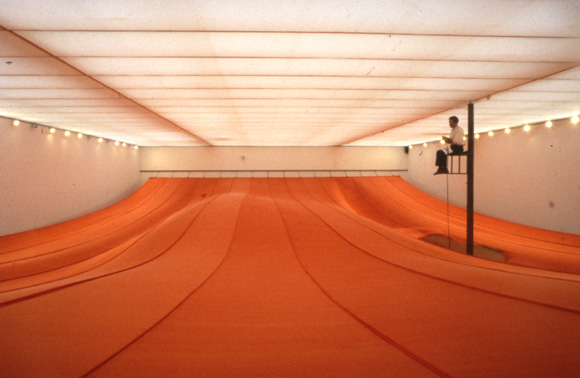 Visitors walked through double doors at either end of the gallery beneath the floating horizon of orange filtered light. On the underside of this canopy, five shimmering blue and green male peacocks strutted freely or sat on one of six wall-mounted perches. Mixed with the sounds of peacocks (screeching at times) and the hushed billowing of air filling the cloth, the faint recorded sound of a vocal exercise -- wherein the voice of the student mimicked the voice of his teacher -- could also be heard floating downward from the ceiling of the gallery.

The only other element within the room was a vertical wooden pole attached to the floor and rising to the ceiling through a hole in the cloth. There, perched above the orange silk, a sitting attendant pulled a continuous line of indigo blue typewriter ribbon through the lip of a porcelain inkpot covering a small hole to the floor below. Drawn up from the second floor galleries, the typewriter ribbon was woven round the fingers of the attendant to stain, bind and encircle his hand. When the hand was completely covered, he removed the blue ball of ribbon and passed it down through the orange membrane to the floor. As this gesture was repeated, a mound of typewriter ribbon accumulated at the base of the pole.

Photo credit: Thibault Jeanson / Blaise Adilon

Related Readings:
· "The Third Lyon Biennale of Contemporary Art." Art Press no. 208 (December 1995): 21.
· Bernardina, Marta Dalla. "3e Biennale de Lyon." Art Monthly no. 193 (February 1996): 27-28.
· Moore, Lynn. "Peacocks, a Pole, and Peace Get Volunteers High on Art." The Gazette (November 22, 1998): A1-2.
· Bernier, Jean-Jacques. "Ann Hamilton: le corps et l'objet 1984-1997/mattering." Vie des Arts vol. 42, no. 173 (Winter 1998-1999): 44-46.