ghost . . . a border act | 2000

Part of the exhibition"Highsight / Fore-site: Site-specific installations responding to our Jeffersonian Heritage"
The Bayly Art Museum, University of Virginia
Charlottesville, Virginia
June-October 2000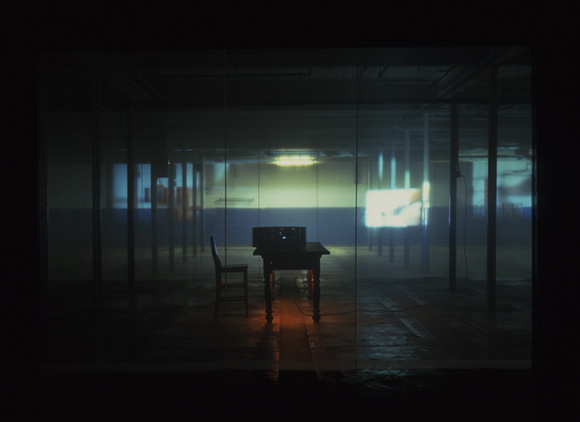 Materials: two suspended silk organza cubes, two wooden tables and chairs, lights, two wooden Zoetropes on motorized mounts, digital sound (made with Andrew Deutsch at the Institute for Electronic Media at Alfred University), sixteen speakers
To d e l i n e a t e
The inscription of a line, wound, round, an enclosure
It announces, fixes, establishes, marks, a visible trace.
It is a word, a name, a signature
Roving the border between
A hiss sounding the silence of
A dividing from
A dividing by
Erasures.
History.

Between a reader and a writer
-- Ann Hamilton
For her installation ghost . . . a border act, sited in a closed textile factory, Hamilton created two suspended nine-foot-high organza rooms with a corridor between them. A table was positioned in each, and on each was a video projector (itself within a zoetrope-like structure) that revolved on a mount. The projectors turned, as described by Hamilton, "at the pace of a slow walk." The visitor standing in the corridor between the two rooms understood that in one of them, the video projected a line being written (and seen circling the walls of the room beyond, and through, the organza walls, in a counterclockwise fashion). In the other room, the video was played backward so that its image was of a line unwritten (the throw of this projector circled the room in a clockwise direction).
This piece was highlighted in the PBS Series "Art 21." (more information)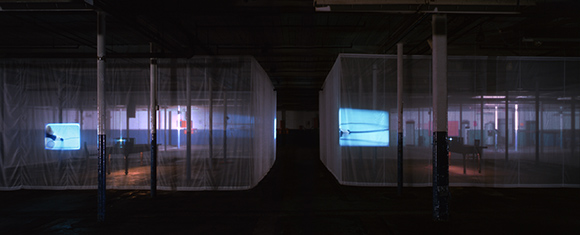 Photo credit: T. Cogill
Text excerpted from Ann Hamilton: An Inventory of Objects. New York: Gregory R. Miller & Co., 2006. Joan Simon.

Related Readings:
· Scott, Michael. "Ghost Images: Ann Hamilton's VAG Exhibit Undermines the Power of the Written Word." Vancouver Sun Queu Magazine (December 23-30, 1999): C7.
· Saccoccia, Susan. "Maker of Huge Art Builds a 'Mystery'." Christian Science Monitor (August 6, 1999): 20.
· Ramp, Stefanie. "Haunted House." Arts & Entertainment.
· McQuaid, Cate. "Communing with the Ghosts of Technology Past and Present." Boston Sunday Globe (Arts & Entertainment, November 2, 2003).
· Murphy, Deborah. "A Ghostly Exhibition Illuminates." The Times Record (October 30, 2003).
· Keyes, Bob. "Haunting images lead to spirited exhibition." Press Herald (Weekly Entertainment Planner, Go-Portland, September 25, 2003): 8D.