lineament

| 1994

Ruth Bloom Gallery
Santa Monica, California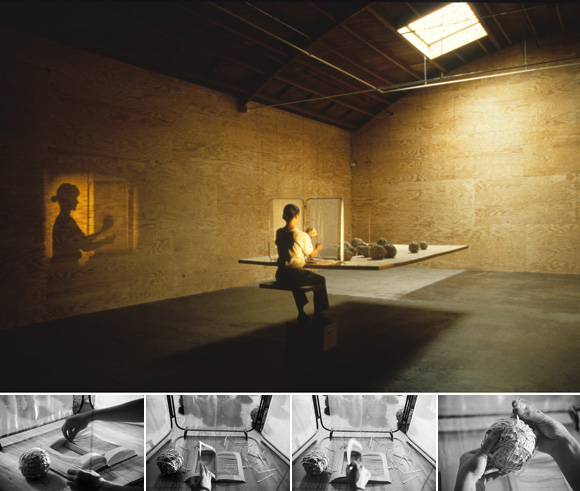 Materials: plywood walls, suspended seat and table, film projector light, seated figure lifting and winding cut text in continuous line from a prepared book

"Lineament" refers to the outline or contour of a body or figure and, by extension, to any distinguishing characteristic or feature. In this title it also signals a reference to Wallace Stevens's poem "The Planet on the Table," in which he writes that poems should bear "Some lineament or character...Of the planet of which they were part." *
This installation, Hamilton's first to experiment with shadow images and projections, framed the activity of its attendant figure against a spare background made of just one material -- plywood. Raw plywood in 4' x 8' sheets lined the interior walls, ceiling, and floor of the barrel-vaulted gallery, and its smell permeated the space.
Suspended by cables from the ceiling, horizontal pieces of plywood formed a table, where the figure sat. The attendant carefully lifted strips of text that had been sliced line by line from the books and wound them into balls. At irregular intervals, the figure pushed a ball of text through a slit in a triptych fabric screen on the table. A beam of light from a film projector embedded in the wall to the attendant's right illuminated the figure's activity and cast a shadow on the opposite wall. The shadow enlarged and abstracted the figure's image and gestures of extracting and winding.
This piece was highlighted in the PBS Series "Art 21." (more information)
Photo credit: Robert Wedemeyer

Related Readings
*The Collected Poems of Wallace Stevens (New York: Alfred A. Knopf, 1981), pp.532-533.