kaph

| 1997-1998

Contemporary Art Museum, Houston, TX
December 13, 1997-January 25, 1998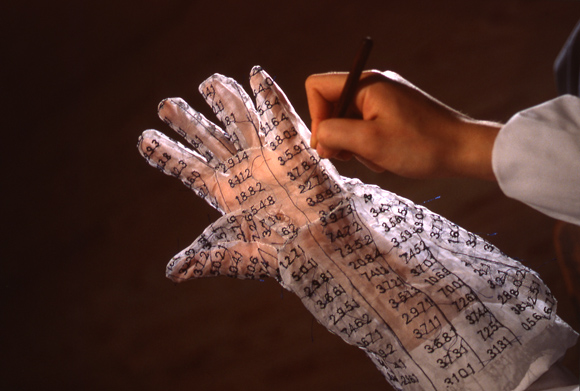 Materials: curved walls tearing water, tables mounded in dirt and covered with cloth, mechanized trapeze, seated figure pricking the embroidered numbers out of silk gloves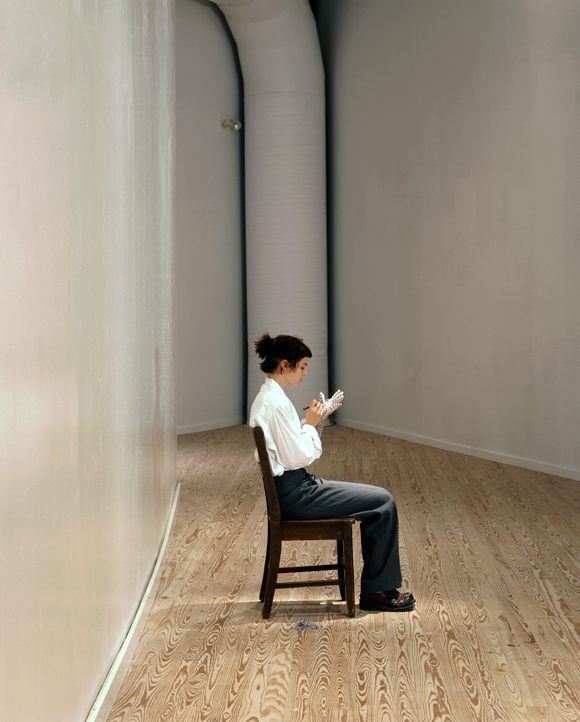 Upon entering kaph (which means the palm of the hand), viewers saw an enormous curving white wall 16 feet tall and 118 feet long that cut across the Museum's parallelogram-shaped gallery, leaving relatively small openings at either end. Behind this great wall was another equally enormous curving white wall. Together, the walls, with their glistening white surfaces, looked like a grand ice canyon bisecting the 9,000-square-foot gallery. Hidden inside the enormous curving walls were 9,600 feet (1.8 miles) of intravenous tubing. The system of tributaries allowed approximately 3,000 miniscule orifices scattered throughout the surface of the walls to sweat, weep, or ooze a mixture of distilled water and bourbon (chosen for its musky, bodily scent).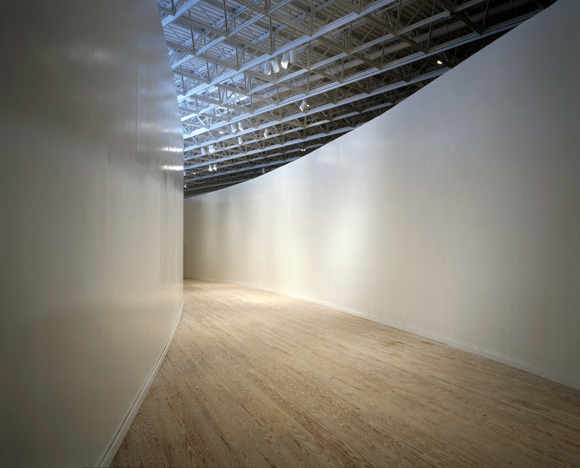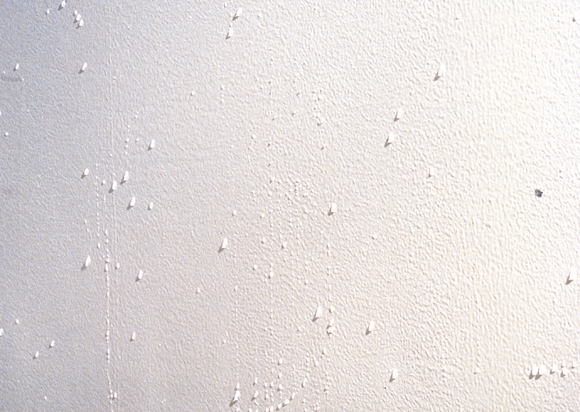 At one end of this gorge, viewers found a twelve-foot long mechanized steel trapeze hanging just out of reach that made an irregular yet rhythmic squeaking sound while in motion. Every few minutes a motorized extension kicked the trapeze, sending it swinging. Its arc and volume diminished with each swing until it was almost silent and barely moving at all. At the other end sat a lone person in a school chair, one hand wearing a semi-transparent silk organza glove with a generous working-glove cuff. Embroidered on the glove were columns of four-digit numbers taken from an old workbook Hamilton found containing a record of laundry orders. The other hand held a sharp tool which the attendant used to pick individual digits off of the glove in the area covering the palm/kaph, letting them fall to the floor.
Behind the walls were four twelve-foot worktables, staggered and each "laid" with a massive, unidentifiable load hidden by white sheets that were thrown across them and cinched underneath.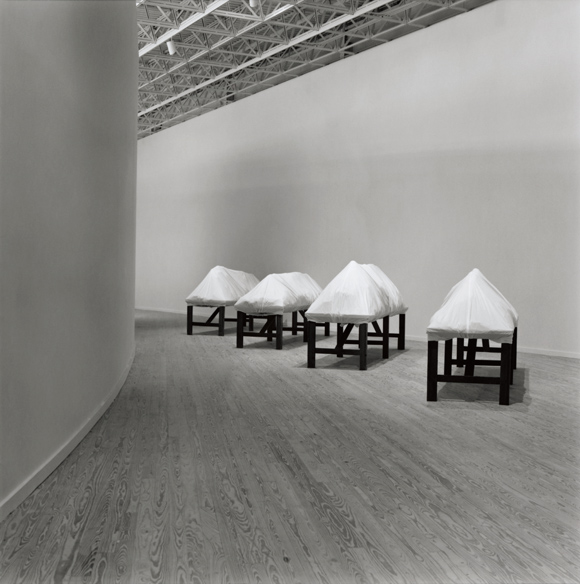 This piece was highlighted in the PBS Series "Art 21." (more information)
Photo credit: Hester + Hardaway