corpus | 2003 -2004



MASS MoCA
North Adams, Massachusetts
December 13, 2003 – October 17, 2004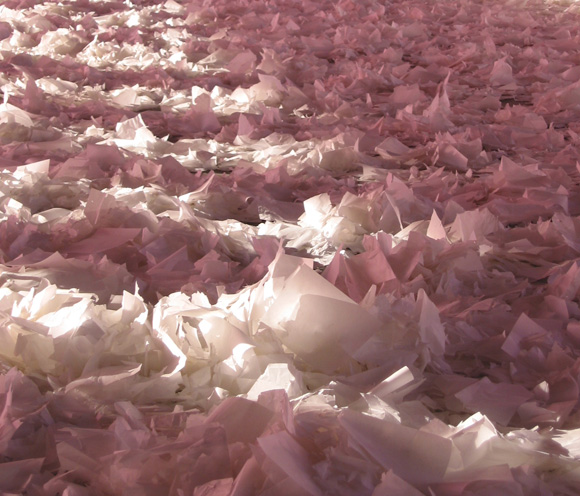 Materials: 40 ceiling mounted paper-drop mechanisms consisting of a computer-controlled, pneumatically moved vacuum paper lift actuator, compressor, paper; recorded sound; amplifiers; 24 bell-shaped speakers; spinning speaker mechanism; silk covered windows; light

"You can see the paper as empty of words or full of space ... for the blank paper, like the open mouth, is the possibility of speaking or writing."
-Ann Hamilton


Larger View
In the main hall of Mass MoCA, 40 ceiling-mounted mechanisms pneumatically lifted and released single sheets of translucent onionskin paper. Moving at the pace of the breath, the machines inhaled to pick up a paper from a stack and exhaled to release it to the floor.

With the passage of time, millions of sheets accumulated in piles on the floor, each blank page full of space and, like the open mouth, the possibility of speaking or writing. Twenty-four large horn-shaped speakers slowly descended and ascended from the rafters to meet the papers on the floor.

Larger view
A unique voice was present in each of the downward facing speakers, and the 24 voices created a chorus of recordings, reading texts composed from the intersections of found fragments, phrases underlined, and slips of words, creating a layered, complex and open context through which the blankness of the paper moved.
Photo credit: Thibault Jeanson / Arthur Evans
ACKNOWLEDGEMENTS
Curator: Laura Heon
Project Managers MASS MoCA: Larry Smallwood, Richard Criddle
Studio Project Manager: Maggie Moore
Engineering: Marty Chafkin, Perfection Electricks
Sound Recording and Engineering: Scott Lehrer, Passport Sound
Additional Engineering: Bill Greenwald
Spinning speaker sound: "liquid air," composed by Meredith Monk for mercy, a collaboration with Ann Hamilton.
Voice: Theo Bleckmann, Katie Geissinger, Ching Gonzalez, Meredith Monk, Allison Sniffin, Bowed Vibrophone: John Hollenbeck
Unison speaking: Tom Bogdan, vocal leader, with students and staff, Bennington College

For a complete list of all those who made this project possible, please click here.

Related Readings:
· "MoCA's largest gallery to re-open." North Adams Transcript (December 11, 2003).
· Iacobucci, Cara. "SPNEA and MASS MoCA: Mix it Up." Nema News (Fall 2003).
· Gardner, Karen. "Yankee Remix brings new works to MASS MoCA galleries." North Adams Transcript (April 11, 2003).
· Cahill, Timothy. "MASS MoCA show makes postmodern art out of the artifacts of old New England." Albany Times Union (August 10, 2003).
· Bonenti, Charles. "MoCA gets into gear: 'Yankee Remix' exhibition rethinks region's heritage." The Berkshire Eagle (May 23, 2003).
· Oppenheimer, Daniel. "Brooklyn in the Berkshires: How Mass MoCA brings high culture and – gasp! – hipness to the Berkshires." Valley Advocate.
· Mitchell, John E. "MoCA's ream room: Loose papers carry weight." North Adams Transcript (January 8, 2004).
· "Museum's paper exhibit a tinderbox of safety issues." North Adams Transcript (February 6, 2004).
· Ohlin, Alix. "Ann Hamilton at Mass MoCA." art on paper (March/April 2004).
· "Inside the Massachusetts Museum of Contemporary Art, which brightened the economy of North Adams, Mass." Fortune Small Business (December 2004/January 2005): 9 (corpus illustration).
· Giuliano, Charles. "Ann Hamilton's Corpus." New York Arts Magazine (March/April 2004).
· Grant, Annette. "Let 7 Million Sheets of Paper Fall." The New York Times (Art, April 11, 2004): 31.
· Dornbusch, Jane. "Mass MoCA paints new picture of art for children." Boston Herald (July 1, 2004).
· Bjornland, Karen. "Paper, light mark 'corpus', new exhibit at MASS MoCA." Schenecktady Gazette (January 29, 2004).