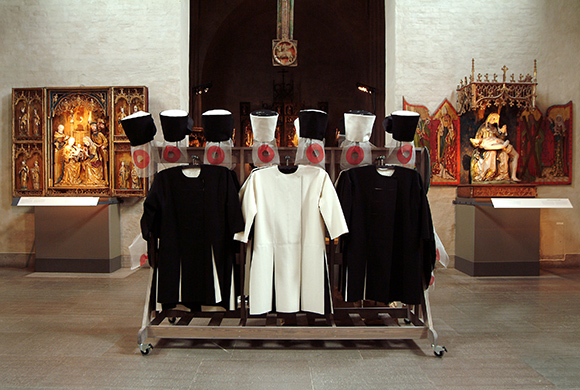 This edition is based on the fourteen wool felt coats with hats that were part of Hamilton's 2004 project aloud, set in the Gothic Hall at the Museum of National Antiquities in Stockholm that had been commissioned by Sweden's Statens konstrãd (the National Public Art Council). Ann Hamilton worked in collaboration with HV Studio, Marie-Louise Sjoblom, Anna Eriksson, and Gun Aschan to design and construct these wool felt coats and hats. They also custom-dyed the silk cloth which covered the barrel of each wind machine and created a surface friction which filled the hall with the sound of a large and sometimes howling volume of wind.
Hamilton used these fourteen wind machines to form an aisle in the Gothic Hall of the museum, seven per side. The wind machines were hand-cranked by volunteers to "sound the volume of the museum's space." The assembly of volunteers wore these coats and hats, each with a transparent veil, and a large round red circle with a hole over the mouth. As Hamilton's work has turned in new directions—toward voice and an interest in collective or unison speaking—she has at the same time turned back toward her "first hand" and its training in textiles.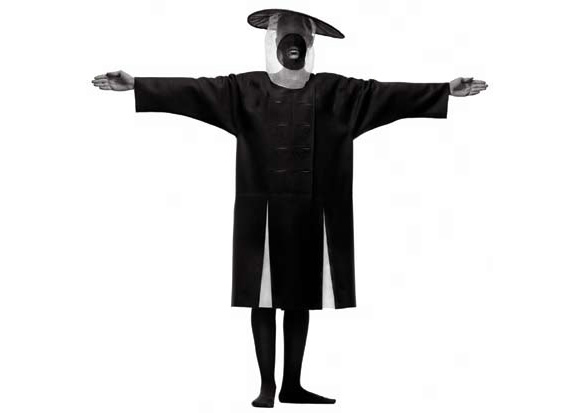 Photo credit: Dawid, Christer Åhlin/SHM
Text excerpted from Ann Hamilton: An Inventory of Objects. New York: Gregory R. Miller & Co., 2006. Joan Simon.