(indigo blue • books)

| 1991

Collection of Lois Plehn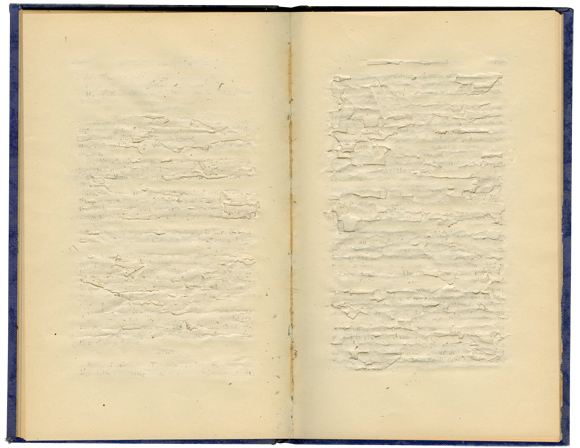 Four altered books, glass and wood vitrine
39 ¾ × 68 × 20 inches / 101 × 172.7 × 50.8 cm (vitrine), variable (books)
Hamilton's installation indigo blue, in the exhibition "Places with a Past: New Site-Specific Art at Charleston's Spoleto Festival," 1991, was keyed to the historic importance of indigo, both as a plant and as a dye, in the economy of Charleston, South Carolina. The overriding presence in the installation was a mound of 14,000 carefully folded blue work shirts. A figure sat at a desk, back to the mound of shirts, reworking books with blue covers, which Hamilton had found in secondhand stores, and which were in fact military manuals regulating the establishment of legal boundaries between land and water. The figure in performance sat reading the books back to front, clearing each page, by a gesture of wetting a Pink Pearl eraser with saliva, rubbing out a line of text, and collecting the rubber eraser crumbs in a line parallel to the uppermost edge of the book and the front of the desk. The repetitive gesture, like the anonymous work clothes, echoed Hamilton's readings in American labor history that had informed the making of this installation. Hamilton chose two different sets of books as traces of the event. This set, (indigo blue • books), comprises four books, completely erased, which are encased in a glass and wood vitrine. The second set (indigo blue • books II), 1991, comprises five books that are incompletely erased, and lacks the vitrine.
Photo credit: D. James Dee
Text excerpted from Ann Hamilton: An Inventory of Objects. New York: Gregory R. Miller & Co., 2006. Joan Simon
.