table | 2013-2014

Ann Hamilton with Pendulum Percussion Duo


Video (excerpt: 5:00 of 11:32); projectors
Variable dimensions
When he wrote the score for Table of Contents, composer David Lang envisioned a nearly impossible synchronization of two percussionists. "My original idea for the piece was a visual image that reminded me of the television variety shows of my youth - someone would come out onstage and make music by picking up an odd array of noise makers, in lightning succession, all of which produced sound in different ways." Fellow musicians were incredulous, telling Lang it was too difficult. In 2009, the Pendulum Percussion Duo took on the challenge of playing the piece the way he intended. Other duos thought it impossible to pick up the instruments and shake them; until the Duo's performance, Lang had never witnessed its proper execution.
After seeing their performance in 2011, Hamilton imagined attaching an array of low-resolution mini surveillance cameras to their hands and instruments. This technique builds upon a process specific to her practice since 2001, which uses an inexpensive single-chip miniature surveillance camera held in the hand. The appendage of touch becomes the "eye." This technique of "handseeing"—reading, recording, and in effect rewriting—causes the picture to come in and out of focus. This is the first time Hamilton has used this many cameras simultaneously, undertaking the challenge of synchronizing their multifarious perspectives into one singular projection.
In table, the cameras occupy the gap between hearing and seeing. They insert a motion that is neither the percussionist's hand nor the static unblinking eye of an overhead stationary camera. The spliced video channels generate a counter rhythm, a back-and-forth that possibly brings us intimately into "impossible" virtuosity.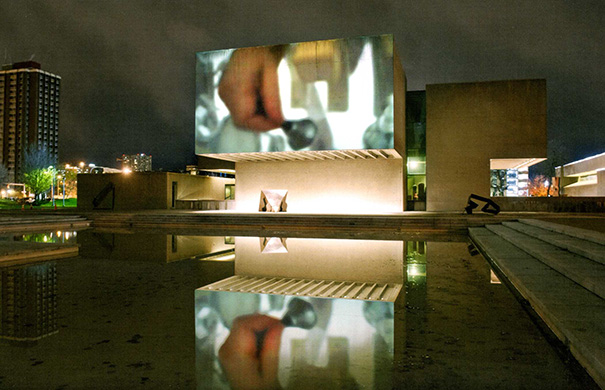 table installed at Urban Video Project Everson, Syracuse, in 2014

Photo credit: Urban Video Project
ACKNOWLEDGEMENTS
Composer: David Lang
Musicians: Pendulum Percussion Duo (Susan Powell and Joseph Krygier)
Editing: Jason Mulhausen and Daniel Shellenbarger
Sound Engineer: Mark Rubinstein