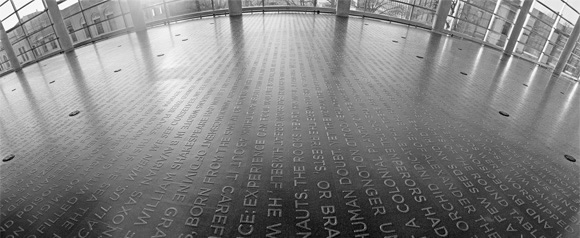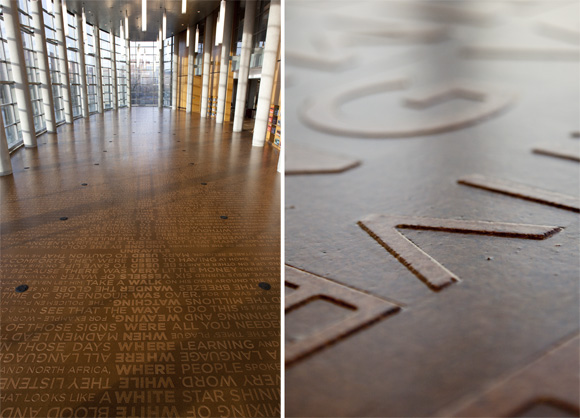 A two-color cork floor laid as a field of words set in relief and located in the Thompson Library Buckeye Reading Room. The text is created by an alphabetic intersection and line-by-line weaving of three different accountings of world history that are arranged in a literary concordance. The spine along the north-south axis is composed of 299 words in A-Z order and adapted from The End of the World – a White River Sioux tale. The east west lines of text intersect this story with prose fragments from A Little History of the World by E.H. Gombrich (1936) and Mirrors: Stories of Almost Everyone by Eduardo Galeano (2009).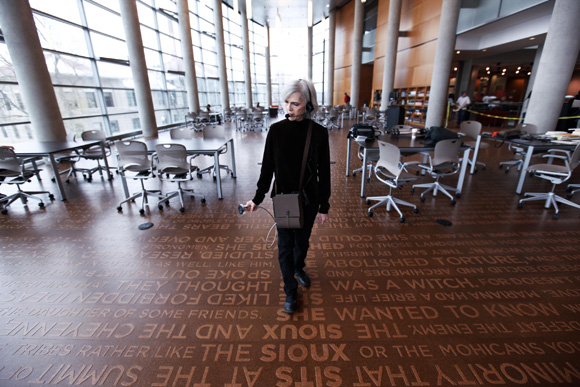 Photo credit: Fredrik MarshJenny Fine
BIBLIOGRAPHY
Excerpted from Mirrors: Stories of Almost Everyone. Copyright © 2009 by Eduardo Galeano. Translation copyright © 2009 by Mark Fried. Published by Nation Books, a member of the Perseus Books Group. First published in the Spanish language as Espejos by Siglio XXI Editores (Spain and Mexico) and Ediciones del Chanchito (Uruguay) in 2008. By permission of Susan Bergholz Literary Services, New York, NY and Lamy, NM. All rights reserved.
Gombrich, E. H.. A Little History of the World. Trans. Caroline Mustill. New Haven and London: Yale University Press, 2005.
Book from which the White River Sioux story is adapted: Erdoes, Richard and Alfonso Ortiz, eds. "The End of the World" (White River Sioux). American Indian Myths and Legends. New York: Pantheon Books, 1984, pp. 485–486.
ACKNOWLEDGEMENTS
Typesetting & Graphic Design: Hans Cogne
Fabrication: Mike Neidig, Color Text Incorporated
Installation: Kevin Jones, Jones Commercial Flooring
Architect: George Acock, Acock Associates
Typeface Gotham by Hoefler & Frere-Jones
With special thanks to Ohio Arts Council, Ohio Percent for Art Program